We help children Become More by removing barriers to education and providing ongoing support to help maximize schooling success.
Education is the gateway to opportunity. We create educational programs that pave the pathway to prosperity. Our teachers promote excellence helping hundreds of students to Become More!
FRONT DOOR
_______
We help children living in extreme poverty get to the front door of schools by subsidizing enrollment/tuition, purchasing uniforms and books, ensuring that they have transportation to and from school, and providing ongoing tutoring support.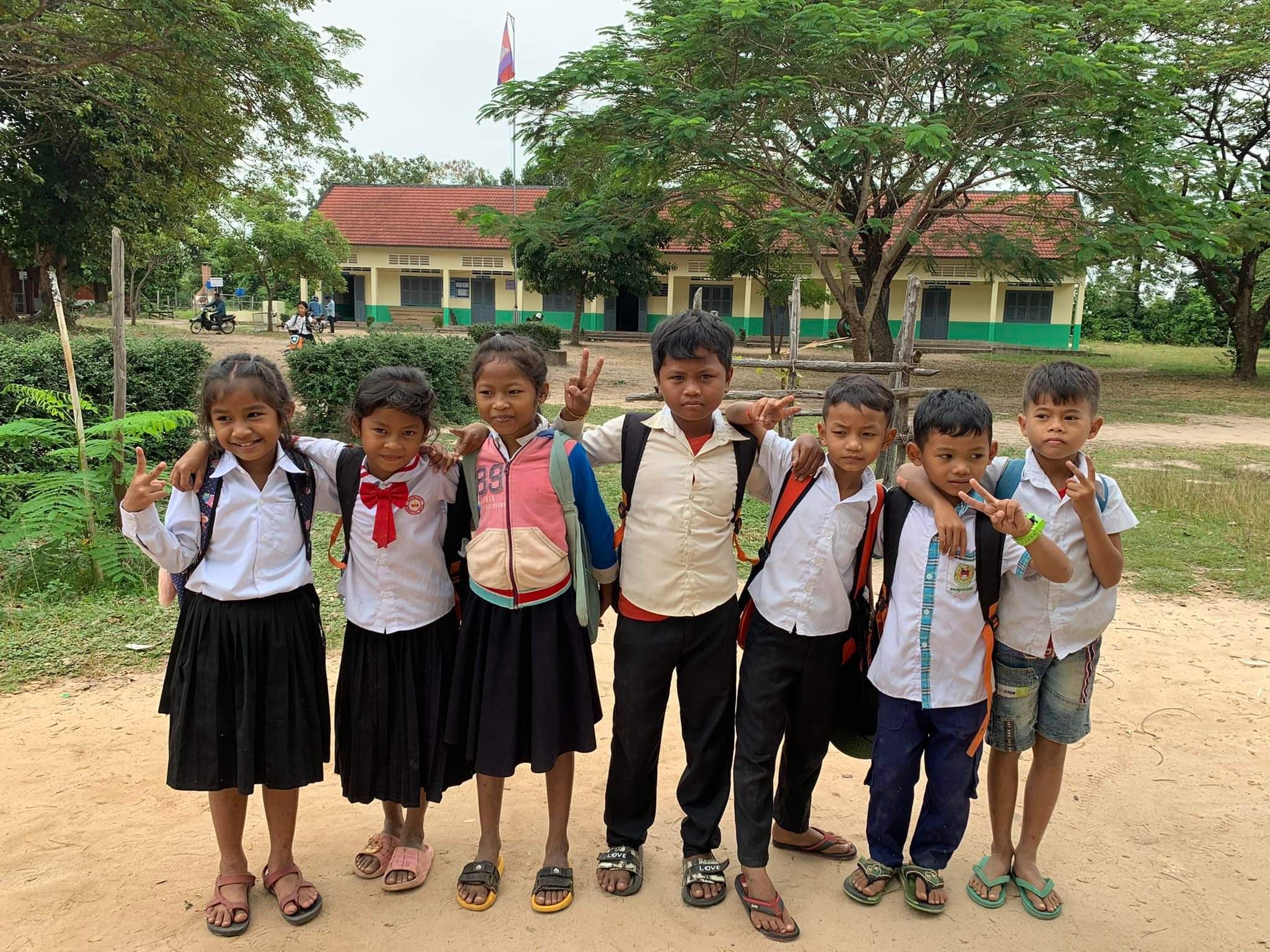 ENGLISH PROGRAM
_______
To assist students excel even further, we have created a program where students can learn English, free of charge. We provide the teachers, curriculum, and resources needed to succeed. Learning to speak English, the global business language, creates additional opportunities to excel.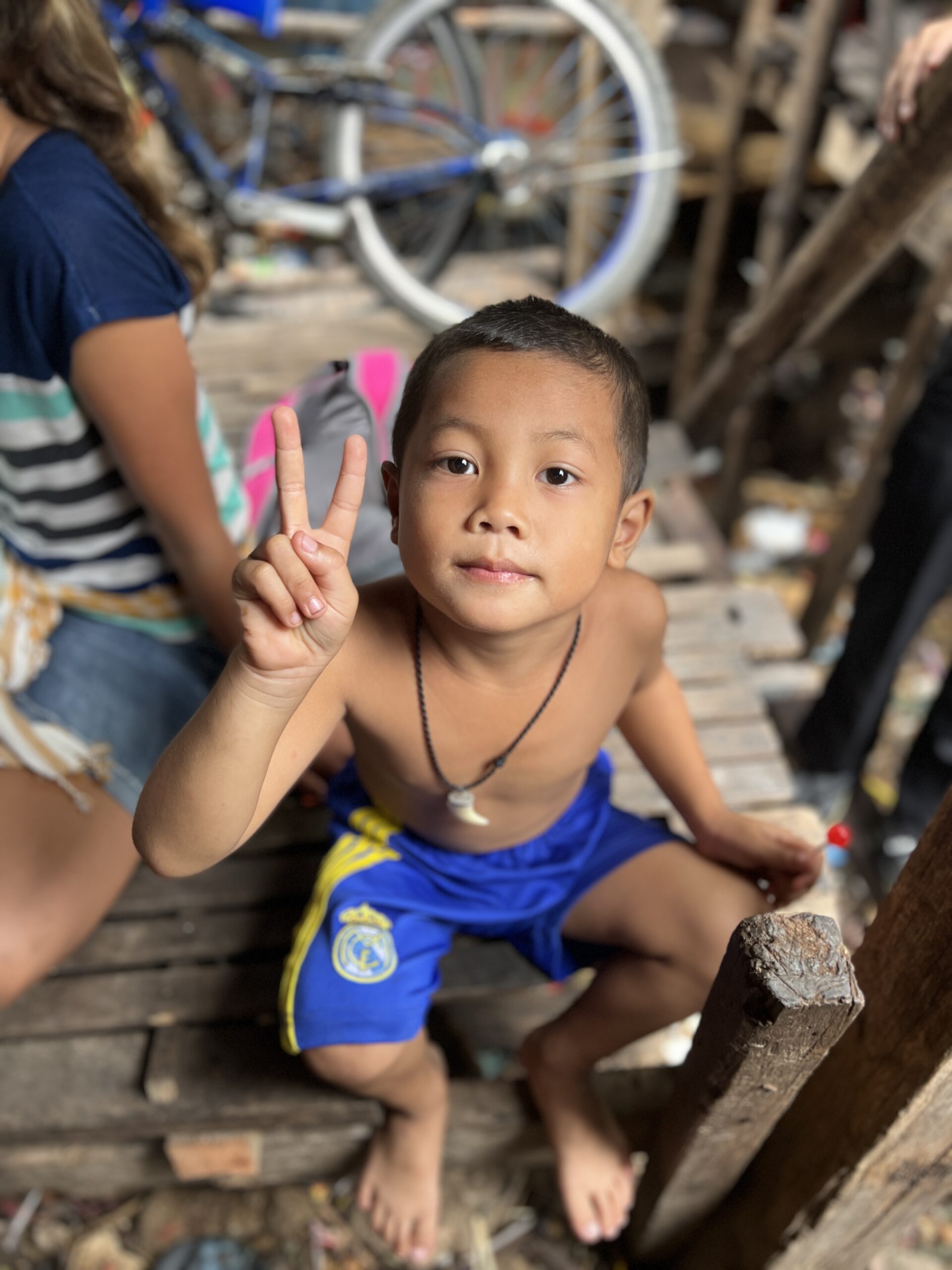 Primary Education
Education for many children living in rural Cambodia is expensive and out of reach. The primary barriers preventing children from attending relate to entry, transportation, and alternative family income support. Our program targets the barriers preventing children from attending and succeeding in school by providing the resources needed to enroll, attend, and succeed in school. Our model helps to minimize the number of students that need to repeat grades. We also incentivize students to attend school – providing monthly rice rewards for students attending more than 85% of their classes. Our program identifies students in danger of repeating grades and provides them with supporting services. By providing an educational pathway for children to prosper – we help them Become More.
While many children are initially enrolled in primary school in Cambodia, some rural areas still lack basic access to education. Areas that have the least access to education also suffer from the highest dropout rates. This is especially true for children that are marginalized or otherwise disadvantaged. Nearly 25% of the children in Grade 3 are not able to write a single word in a dictation test, and only 27% of 3-5 year olds are developmentally on track in literacy and numeracy. By the time children are 17, more than half (55%) will have dropped out of school. The primary reasons students dropping out include inadequate nutrition, inability to study/prepare for school, low quality teaching, and irregular school attendance. For those not dropping out of school, only 6 out of 10 (60%) pass the national high school exam (2016). Since studying at university requires completion of high school, those that dropout prior to completing high school are not eligible. For children currently enrolled in first grade, only 10% will statistically complete high school 12 years from now.
Education consists of 6 years of primary school, 3 years of lower secondary school, and 3 years of high school. School attendance is a major problem for many Cambodian children, with over 7% of students missing more than 3 consecutive months of school each year subsequent to health problems and household responsibilities. Additionally, in rural regions, more than 50% of students regularly arrive at school late. The vast majority of classrooms (78%) are overcrowded with more than 41 students. Teachers in rural regions are also less qualified and earn significantly less than teachers in urban areas. Students in rural regions of Cambodia are 4 times less likely to attain a baseline level of proficiency in mathematics, and only 28% complete grade 7 prior to their 15th birthday. The confluence of these factors results in nearly 1 in 3 children (29%) repeating a grade, at least one time, before reaching high school.
Schools throughout rural Cambodia struggle to provide basic resources to students. Of the primary schools operating throughout Cambodia, around 42% do not have access to water, and over 17% do not provide any form of latrine. Rural regions of Cambodia suffer from even lower access to water and latrines, and have a much higher teacher-to-pupil ratio. Rural regions also have lower primary school attendance rates with less families able to afford education, or even the opportunity cost associated with losing the child's contribution to family income. Complicating the picture further is the fact that not all schools offer all grades. More precisely, around 66% of remote schools in rural Cambodia do not offer the full range of grades (1-6), subsequent to the additional barriers experienced in these regions.
The Cambodian government indicates that inclusive education is a priority, stating: "The ministry's immediate objective is to ensure that all Cambodian children and youth have equal opportunities to access quality education, consistent with the Constitution and the government's commitment to the United Nations Convention on the Rights of the Child, regardless of social status, geography, ethnicity, religion, language, gender and physical form". Given significant barriers, however, the government also recognizes that challenges remain to provide education in remote regions and that appropriate strategies are needed in order to reach these children. Schools in rural areas in Cambodia often take place in basic structures or open-air environments with no electricity, clean water, or latrines – with poorly qualified teachers and very few resources. Individuals from disadvantaged groups (handicapped, female, rural, low-income), are especially limited in accessing education. These factors significantly impact the quality and provisioning opportunities related to education.
At Become More, we believe that educating children in rural Cambodia needs to be done in a way that minimizes grade repetition, maximizes the use-value of resources in programs, and provides for the essential needs of students. We work with primary schools in rural Cambodia to ensure that students have access to safe water, bathroom facilities, and soap. Our approach to education connects disadvantaged children to the classroom by providing books, uniforms, tuition fees, transportation, and tutoring programs. We also incentivize students to attend school – providing monthly rice rewards for students attending more than 85% of their classes. We identify students in danger of repeating grades and provide supporting services to improve their performance. We believe in providing access to education – the gateway to opportunity.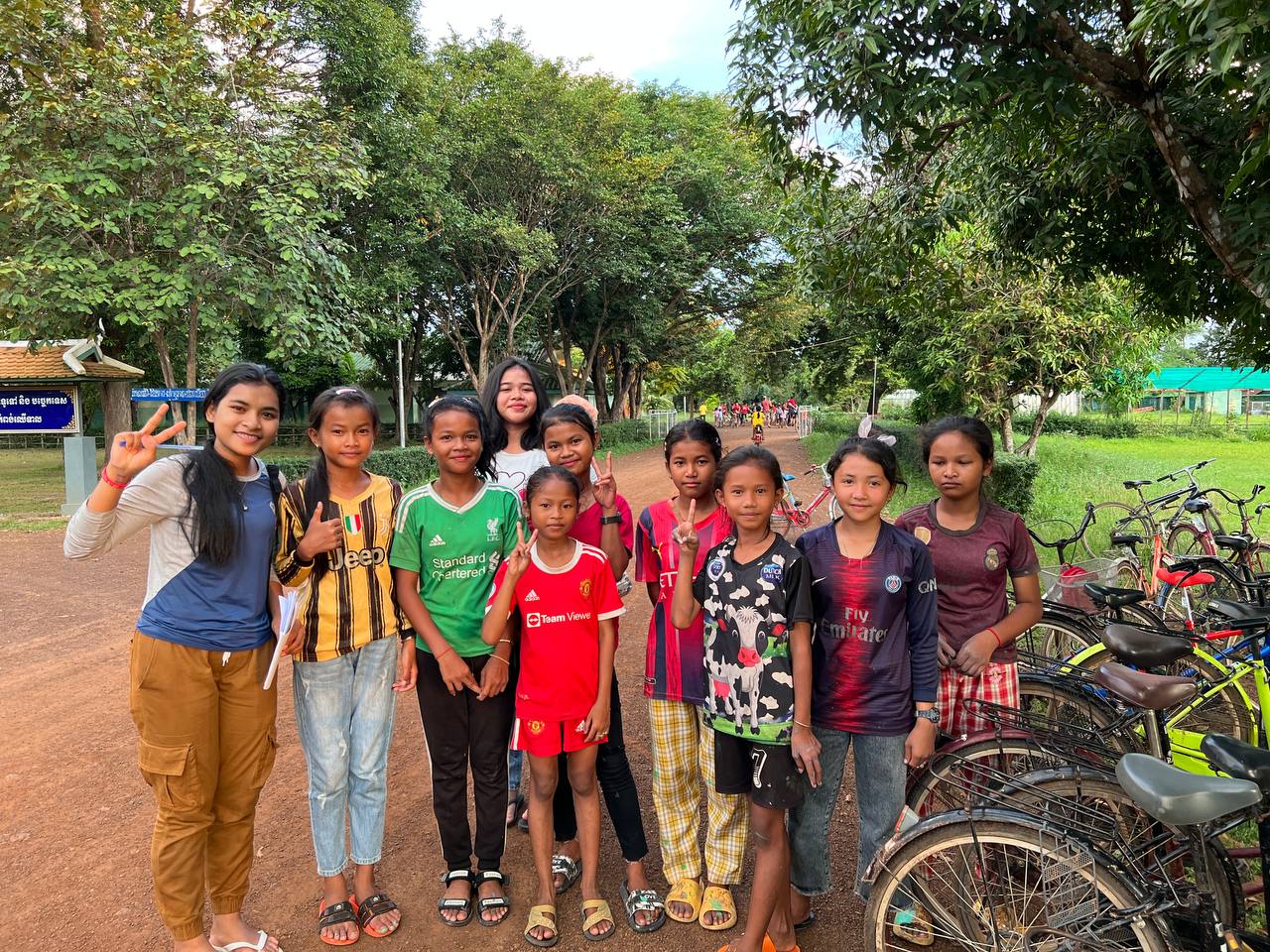 EXTRA LOVE
_______
We work with local leaders and teachers to identify students at risk of dropping out and/or repeating grades at various primary schools in rural Cambodia. We offer extra love and support, additional tutoring, and personalized development plans to help ensure that they succeed.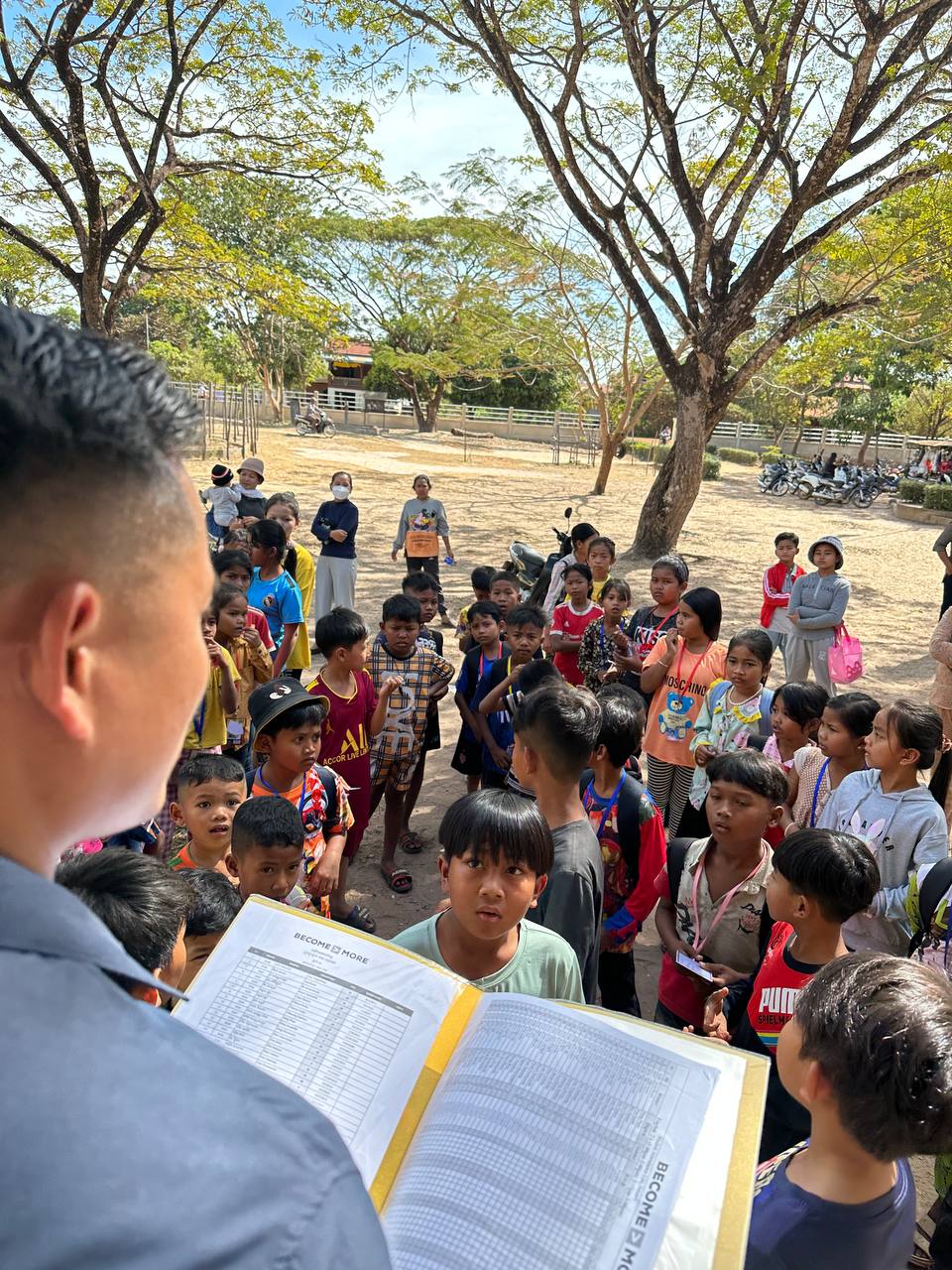 UNIVERSITY EDUCATION
_______
We assist in the process of obtaining a higher education by paying enrollment and tuition fees for students looking to advance their studies. We promote higher education and help people achieve their dreams to attend and graduate from university.
Combining a solid business plan with basic access to capital allows people to provide for their families needs and increase their incomes with each passing season. As small businesses thrive, positive outcomes are experienced in education, health, and wellbeing. By creating small businesses, we help pave the path to prosperity, so individuals and families can Become More.
WHY SMALL BUSINESS?
_______
People living in extreme poverty in Cambodia are often stuck in a poverty trap that prevents savings from taking place. Extreme poverty is characterized by an income below $1.90/day, creating a circumstance of day-to-day living where the vast majority of earnings pays for food. Breaking free from the poverty trap can take place with basic business education and a small amount of savings or capital. Having a small business creates opportunities for growth and development and leads to increased health and wellbeing. We are in the business of helping others create their own business.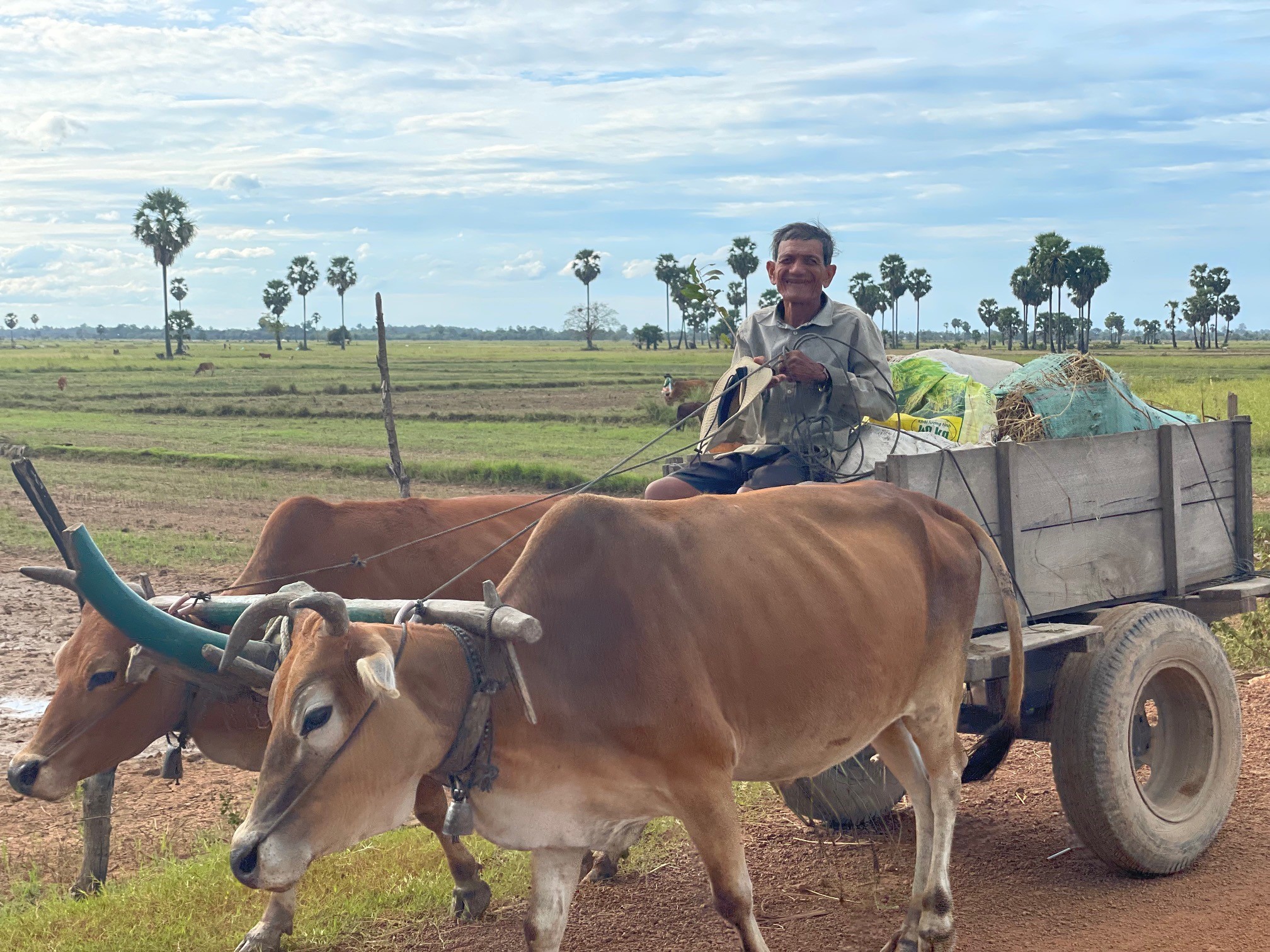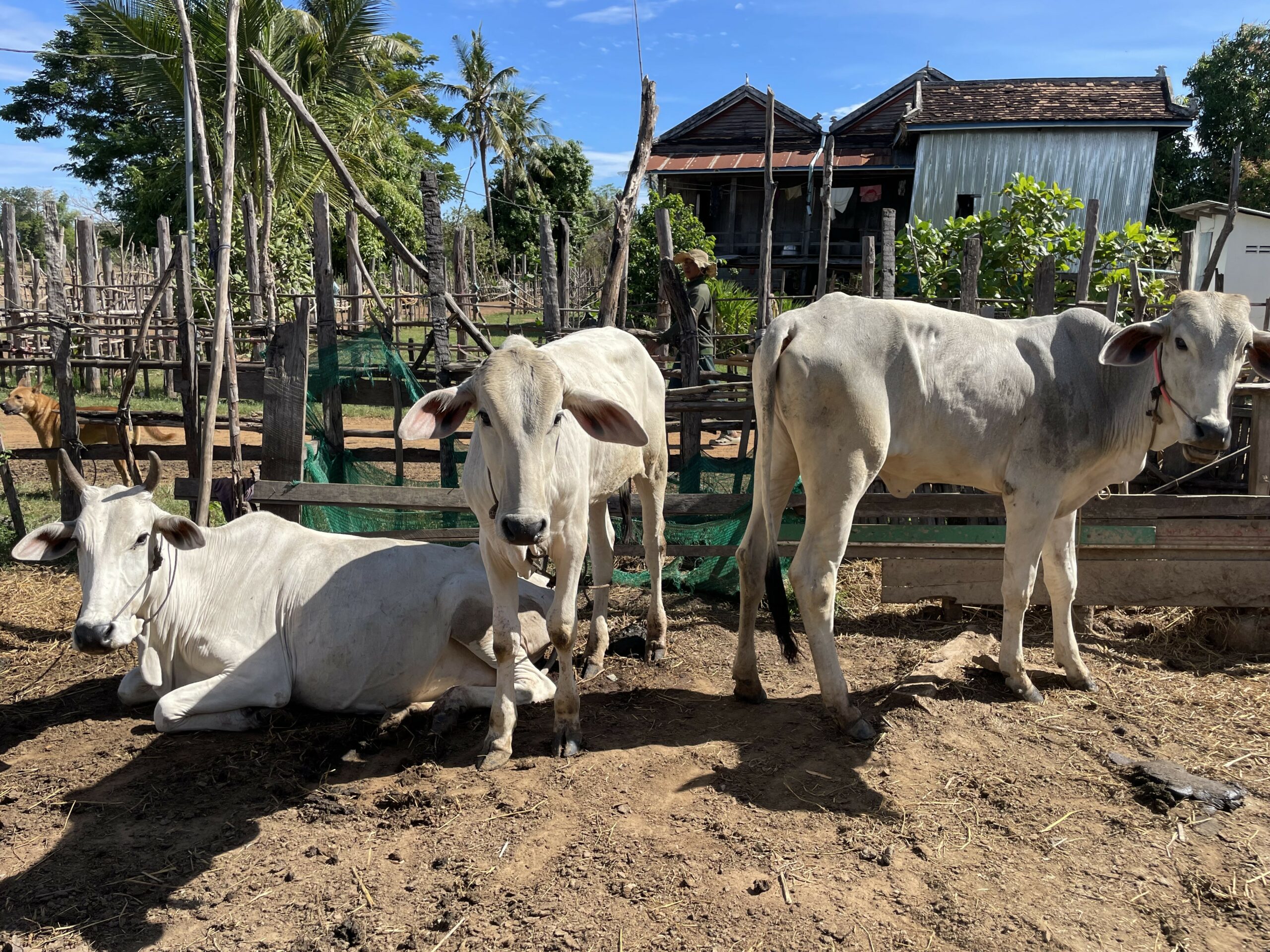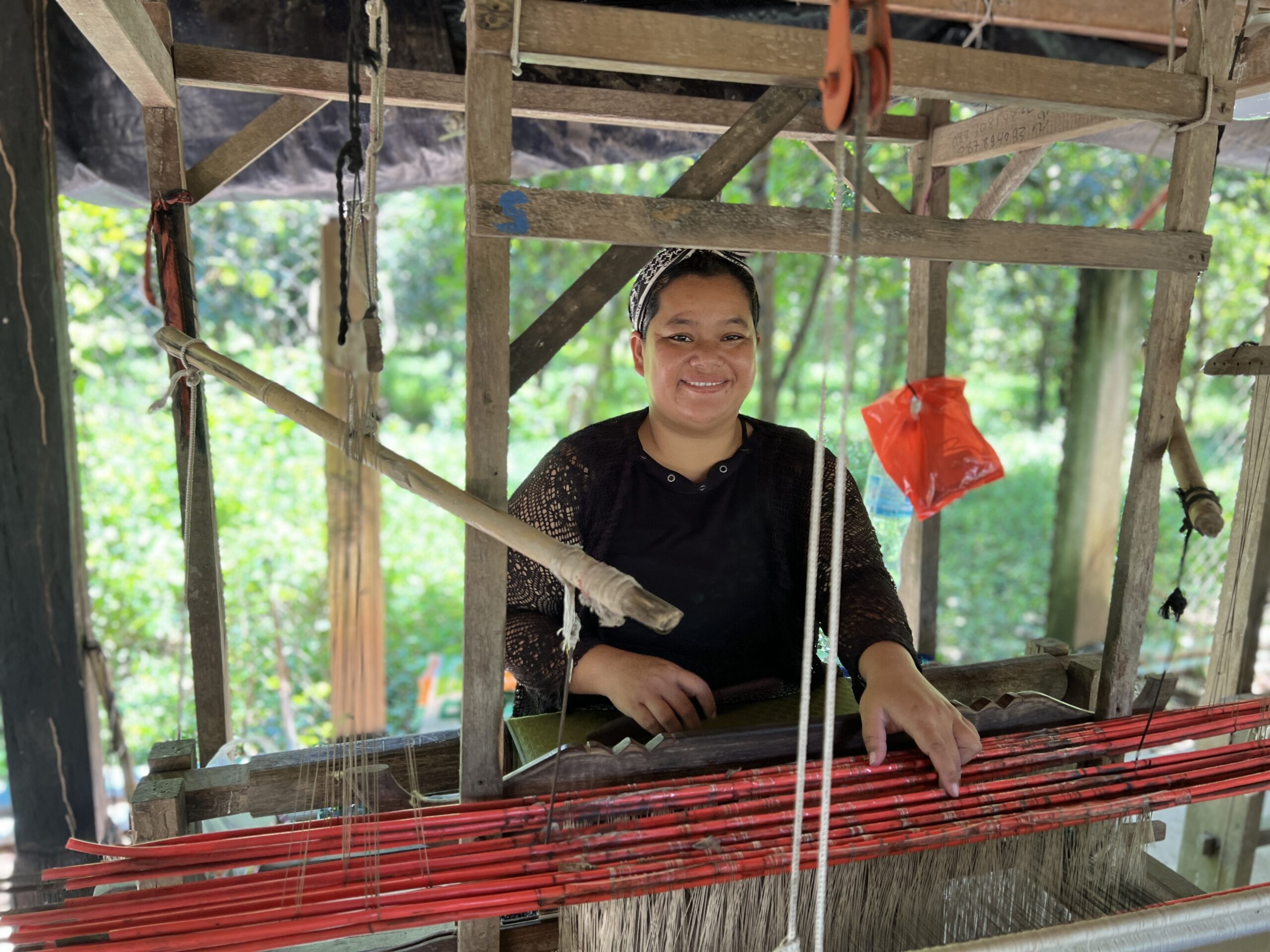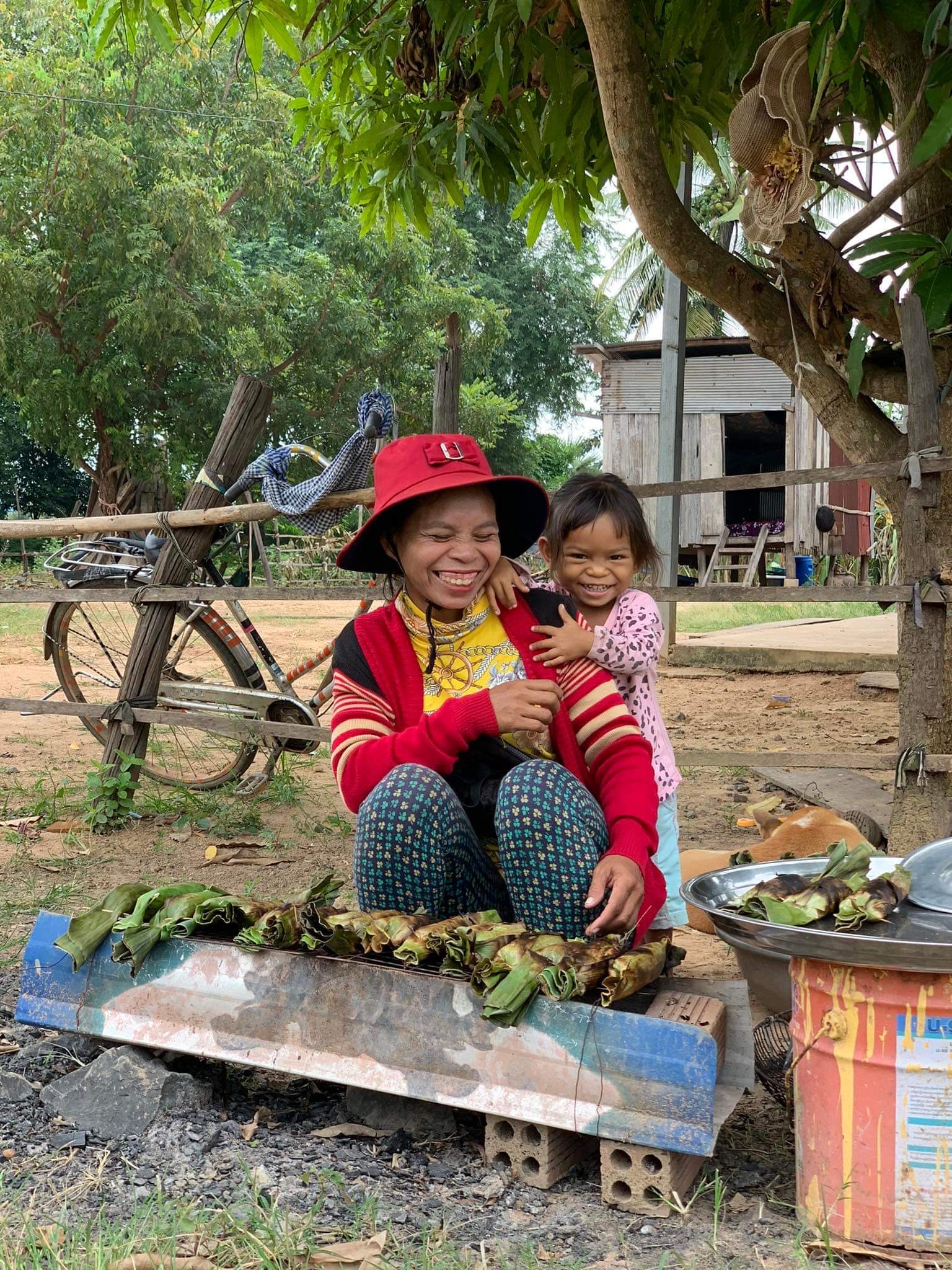 COWS & CORN
_______
We collaborate with village and commune-level leaders to provide animal husbandry education, training, and subsidy sponsorship. We address vaccinations, artificial insemination, animal nutrition, and tethering-feed methods. We provide educational workshops for groups of 25, with individual farm visits to ensure proper methods of practice are implemented.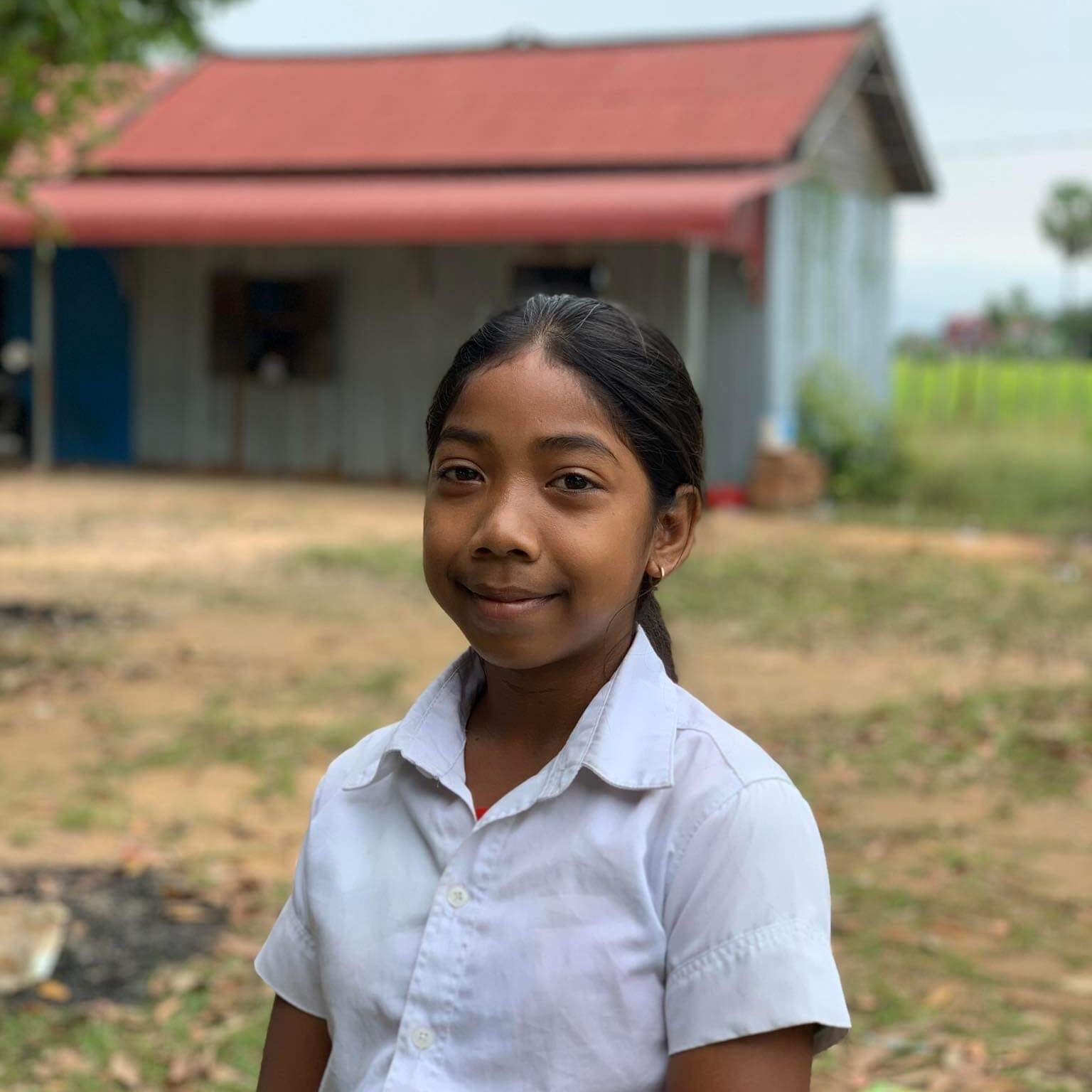 Daling
Kampong Thom, Cambodia
Daling, a 12-year old girl living in Kampong Thom, is extremely poor, and faces severe hunger on a regular basis. Her parents work in Thailand and she lives with her grandparents, who struggle to provide enough food for her. With your assistance, Become More will work with Daling and other members of the community to help feed her, provide her with an education, and make sure that her basic medical care needs are met. Daling dreams of being a policewoman when she grows up and wants to protect young children.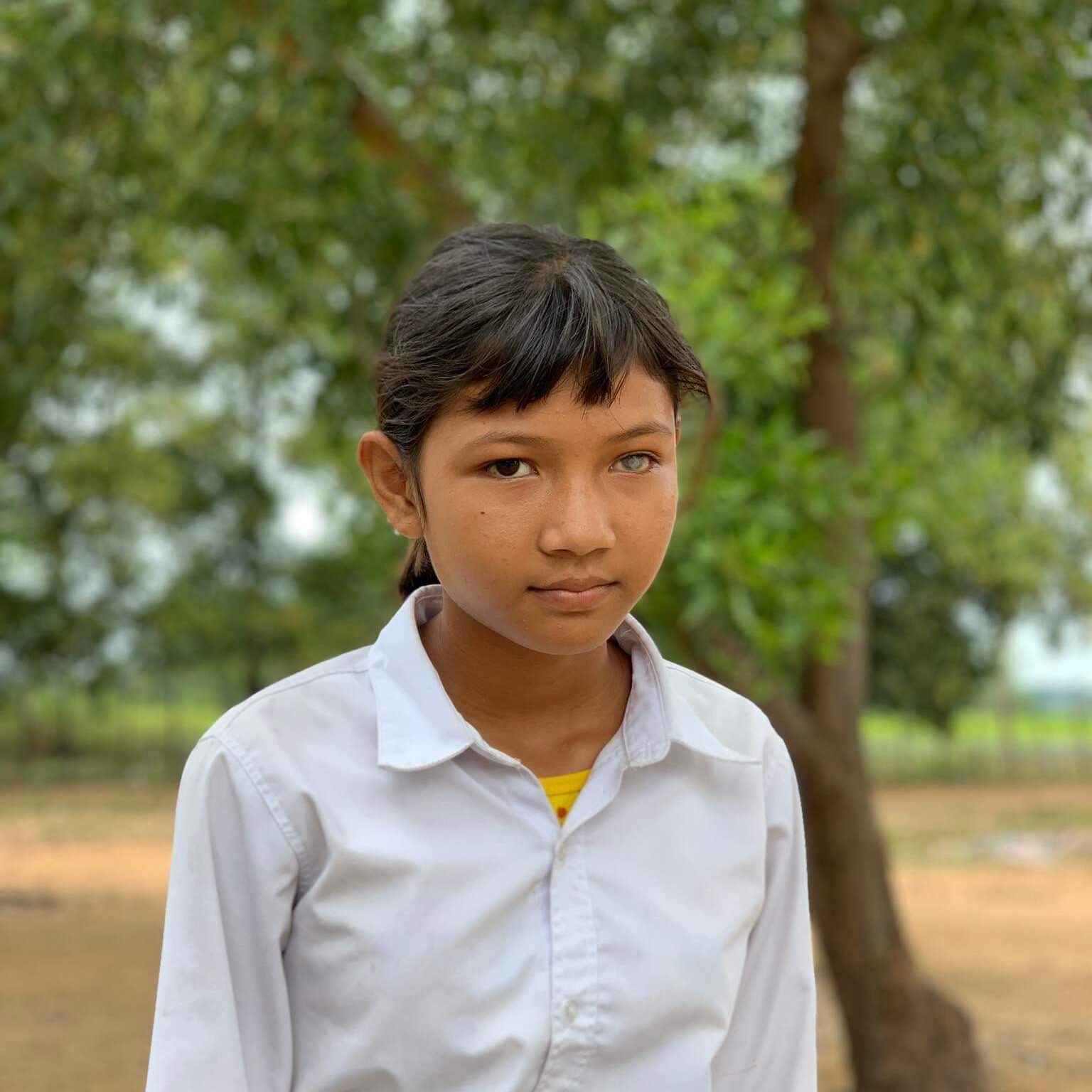 Ra
Kampong Thom, Cambodia
Ra, an 14-year old girl living in Kampong Thom is the oldest of 6 siblings. She lost her parents and sister to a house fire a couple of years ago. She was also left blind in one eye from the incident. Prior to the house fire, Ra was enrolled in school and performing well. She has dreams of becoming a school teacher. Ra works hard to provide for her younger siblings, but often only has enough for a single meal each day. Together, we can make a difference for Ra and her siblings by providing regular meals, access to healthcare, and a full-time education.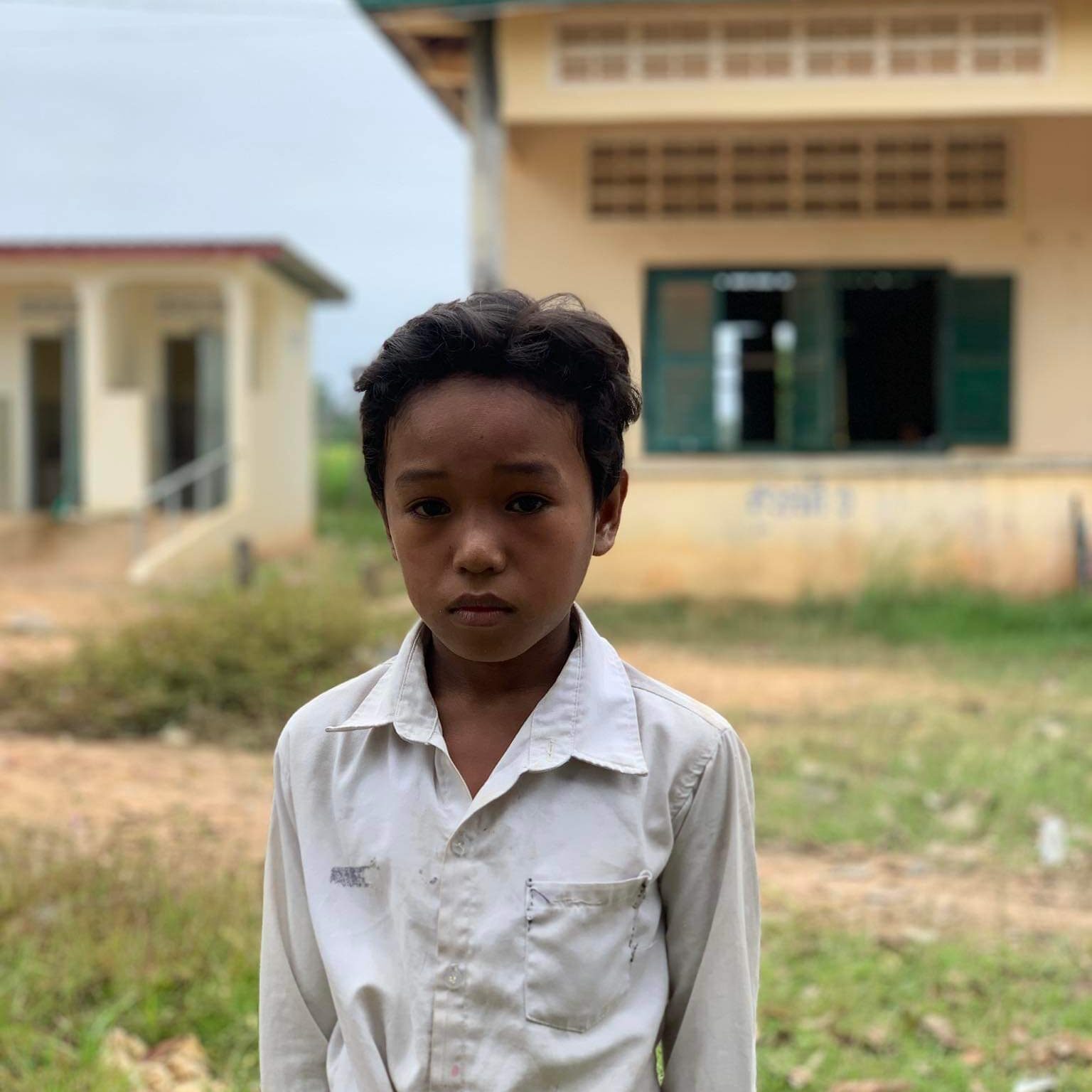 Leak
Kampong Thom, Cambodia
Leak, an 8-year old boy living in Kampong Thom walks several kilometers to get to school each day. After coming home from school he works for several hours collecting and selling firewood in order to assist his family. He does not have textbooks or electricity to read with at night. He loves school and wants to excel, but is quickly falling behind. We would like your assistance helping Leak to Become More. With your help, we can provide additional resources to Leak, ensure he has the proper textbooks, assist with night time reading solutions, and provide supplemental school tutoring.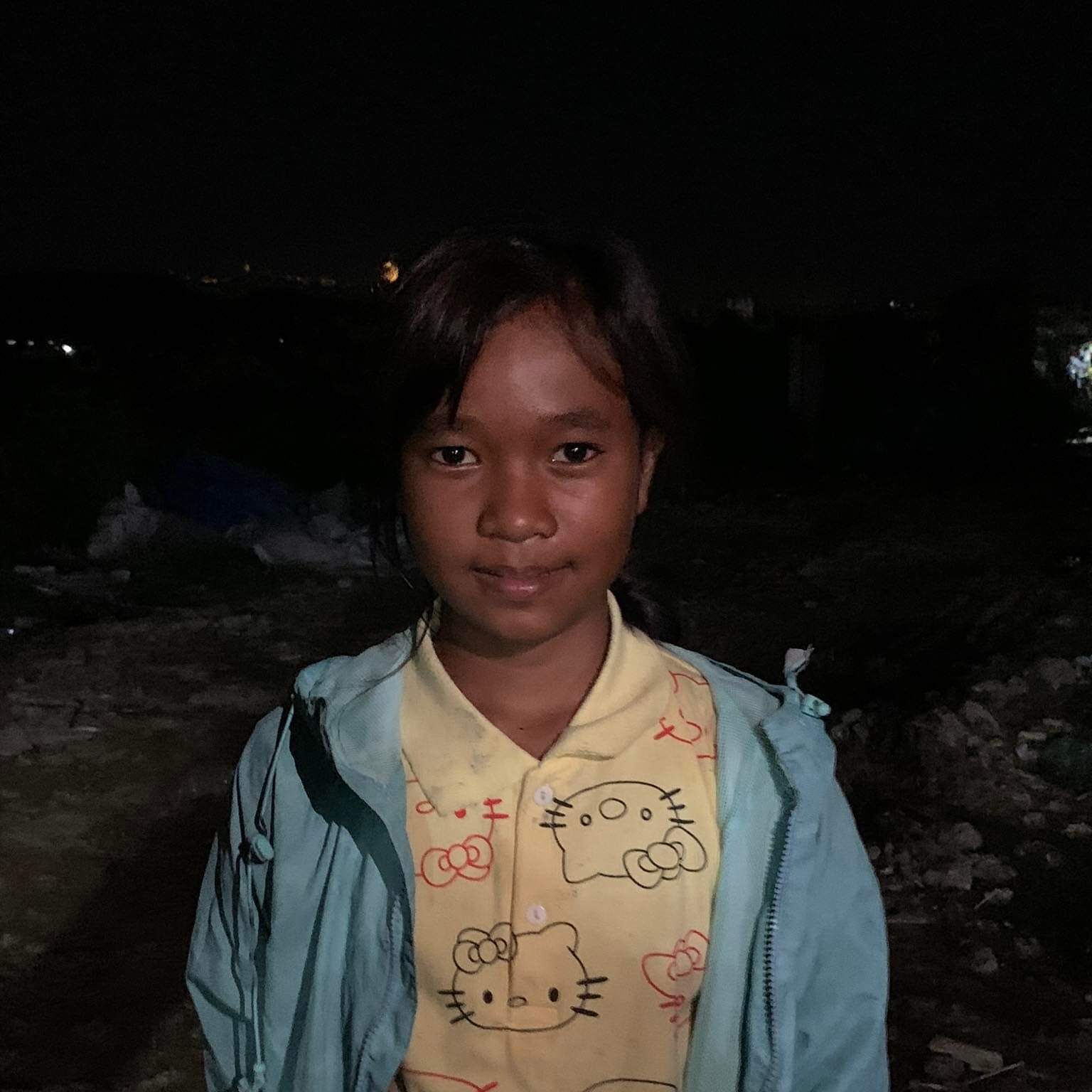 Noun
Kampong Thom, Cambodia
Noun, a 13-year old girl living in Kampong Thom, struggles to provide for her two younger siblings. She sells rice porridge in her village in order to earn enough to send her brother to school. She often sacrifices meals in an effort to provide her brother with enough energy to do well in school, but struggles to have good health herself. With assistance, Become More will help ensure that Noun has access to healthcare, regular meals, and assist her in going to school herself.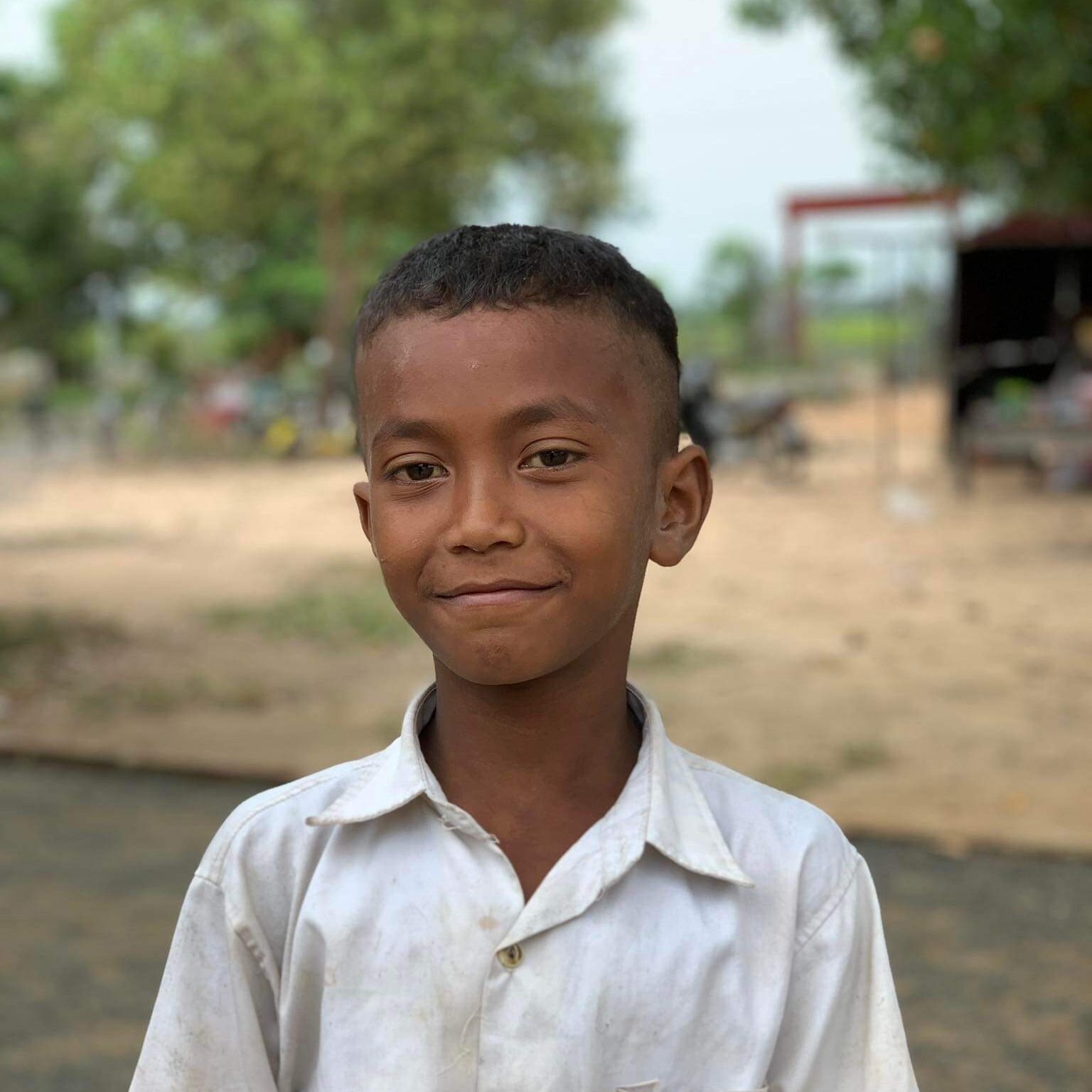 Dom
Kampong Thom, Cambodia
Dom, a 10-year old boy living in Kampong Thom, lost his parents to a traffic accident. He lives with his grandparents and a younger brother. His grandparents are very old and have multiple physical handicaps. Dom is very bright, but is not currently able to attend school. Purchasing a school uniform is far beyond Dom's reach, as he struggles to find food each day. He is considering becoming a monk so that he can have food to eat every day. With your assistance, Become More will work to get Dom and his brother in school, helping to ensure that they receive sufficient food to improve their chances of success.